RV Payment
Calculator
Use this calculator to quickly estimate the monthly payments on a recreational vehicle, motorhome, or camper trailer loan. Enter the amount borrowed, any application fees, the loan term & interest rate charged on the loan. This calculator defaults to monthly payments though you can change to using an alternate payment frequency. There are also options to add sales tax, trad ins and rebates to your calculation. The affordability calculator in the second tab allows you to estimate an affordable vehicle price based on your current savings and monthly budget.
The Beginner's Guide to Buying an RV
Authored by Jose Abuyuan on May 26, 2020
Buying your first car or house are great milestones. A car may symbolize journey and adventure, while your house signifies stability and comfort. But once you purchase your own recreational vehicle (RV), you'll get the best of both worlds: Exciting travels in the comfort of your own dwelling.
Owning an RV may not be for everyone. But if you love the freedom to travel in your own living quarters, an RV may be just what you need. For starters, it's important to know exactly what you're getting into before making a major investment.
In this guide, we'll give a rundown of different RVs in the market, general price ranges, and how different RVs vary from each other. We'll look into how RV costs compare with cars, including loans, maintenance, and insurance. And once you have your own RV, we'll talk about the best times to travel, camp sites and fees, and where people stay to save money on the road.
Choosing the Right Recreational Vehicle (RV)
When you're looking to buy an RV, there are plenty of choices in the market. Whether you're a single traveler, a family of five, or going on trips with friends, there's an RV out there for you.
But before making this purchase, you must understand that owning an RV entails learning how to drive a big vehicle or towing it. It deals with maintenance taking it for repairs. In the long-term, it also means being ready to spend on those repairs (when your warranty runs out).
That said, you must use your RV often enough to justify your purchase. If you don't go on as many trips, perhaps RV rental is more appropriate for you.
Pigly's
Tip!
How much is RV rental? According to RV Share, the common rate for motorhome rental per night is around $175 to $200. If you're looking to rent an RV for two nights (good for four people), prepare to spend about $250 to $300.
Let's suppose you go on at least 10 weekend trips a year. Based on the rate above, you could spend around $3,000 on RV rental a year. This can get pretty costly in the long run, so as well save up for your own RV. There are more affordable options out there too. Others may not mind renting, so long as they don't need to worry about maintenance and repairs.
How long do RVs last? On average, a brand-new RV can last for a 15 years. This is possible if you keep your unit in good condition. Even when your RV's value depreciates through the years, you can still enjoy using it.
If you keep it in top shape, an RV can last for 25 to 30 years. Now that's a worthwhile investment. According to VEHQ.com, one of the longest lasting RVs are Airstream campers which can be used for decades if maintained well.
The most common types of RVs are motorhomes and towable travel trailers. Here's a rundown of different kinds of RVs you can choose from.
Motorhomes
As the name implies, motorhomes are drivable dwellings which come in different sizes. They are some of the biggest and expensive recreational vehicles in the market.
Bear in mind that diesel engines tend to last longer than gas engines. Diesel also performs better when it comes to getting more mileage per gallon when towing. However, diesel-powered motorhomes tend to have lower miles per gallon compared to gas-powered motorhomes. Gas engines are also more affordable than diesel engines. Motorhomes come in four class types: class A, B, B+ and C.
A motorhome can generally last for around 10 to 15 years with good upkeep and mechanical maintenance. Find a trusted mechanic that can help you understand your motorhome's components and make sure to have it serviced on time.
Class A Motorhomes
Class A motorhomes are similar to the size and shape of a public bus. Most class As are built on top of a bus chassis. This explains its long rectangular body (which is around 22 to 45 feet long) and flat head. The large front windows enable drivers and passengers to have a wide vision of the road.
Pigly's
Tip!
Class A motorhomes are considered luxury homes with wheels. They are the most customizable type of motorhome, which includes kitchens, full bathrooms, entertainment facilities, and big storage spaces.
Class A living areas can easily be converted into a dining room or a sleeping area with pull-down beds. They may even have separate master bedrooms with extra sofas.  
Passenger count: Depending on the model, class A motorhomes can comfortably fit around 6 to 10 people at a time. Other models can fit up to 12 sleeping adults. This makes it the ideal family RV. But due to its large size, some class A motorhomes may require more skill to maneuver. Consider practicing your driving skills if you think this will be an issue.
Fuel: Majority of class A motorhomes are fueled by diesel, but other smaller models run on gas. Camper Report states that a diesel RV like a class A motorhome can run for 7 to 13 miles per gallon (mpg).
Price: According to RV resource site Kempoo, a new class A motorhome can cost around $50,000 to $150,000. They are priced considerably higher than smaller RVs. More luxurious models can sell for as much $400,000, and even a million dollars. Examples of popular class A motorhomes include the following models:
Tiffin Allegro Bus 45 OPP
Entegra Aspire 38M
Thor Motor Coach Ace 27.2
Newmar King Aire 4531 Luxury
Fleetwood Discovery 38W
Winnebago Grand Tour 42QL Diesel
Forest River Goergetown GT3 33B3
NeXus Evoque
Class B Motorhomes
Compared to its class A counterpart, class B motorhomes are more compact. They appear like vans, so they are sometimes called camper vans or conversion vans. However, class B motorhomes are wider and much taller than a full-sized van. This gives it enough living space for cooking, dining, and sleeping in your RV.
Pigly's
Tip!
Class B motorhomes are the smallest, economically-sized motorhome that's available in the market. Its compact size means it's also ideal for RV beginners with a smaller budget.
Since it's not as large as class A, driving a class B motorhome is easier to handle. Even with average driving skills, you can get used to it after a few trips. Parking will also not be as tough with a compact RV. Unlike larger RVs and towed trailers, your class B motorhome will only take up one parking space.
Passenger count: Class B motorhomes can generally fit up to 6 passengers, with a comfortable sleeping space for at least 4 people.
Price: Class B motorhomes have a lower price point compared to class A. You can get a new unit starting at $30,000, with prices up to $180,000, according to Camping Fun Zone. The lower price point makes it a great starter RV for buyers on a budget. The following are well-known examples of class B models:
Airstream Interstate Grand Tour Ext.
American Coach Patriot MD4D
Winnebago 4×4 Revel
RoadTrek CS Adventurous XL
Vagabond, Off Grid Adventure Van
Midwest Automotive Designs Passage 144
Pleasure-Way Tofino Camper Van
Embassy RV Sportsman
Regency RV National Traveler
Class B+ Motorhomes
Like its B version, class B+ motorhomes are built on top of a large van chassis, though others are also constructed over a bus chassis. How is it different? B+ motorhomes are larger than class B, but not as big as a class C motorhome (which we'll discuss later below). This means upgrading to a B+ will give you extra room to move around.
Pigly's
Tip!
B+ motorhomes provide more living space so you can comfortably lounge in your RV. However, since it is not as large as a class C motorhome or a travel trailer, it does not provide as much storage space. If you need to pack a lot of stuff, you might need to leave some behind.
Passenger count: Class B+ motorhomes can seat up to 8 people. But ideally, Camping Maniacs states that having 2 to 4 people sleeping in this RV is more than enough.
It provides more dining, sleeping, and bathroom space. B+ motorhomes have extra storage for pull-out counters. It can fit an extra pull-out bed or overhead cabin bed. If you want a comfortable bathroom size, it comes with full standup showers with enough elbow room for movement.
Price: Brand new class B+ models often start at around $50,000, but can be as expensive as $200,000, according to RV Universe. If you're on a budget, there are used models that go on sale for as low as $10,000. Here are some popular examples of class B+ motorhomes:
Aistream Atlas
Leisure Travel Unity U24MB
Phoenix USA Phoenix Cruiser 2350
Gulf Stream BT Cruiser
Regency RV Ultra Brougham TB
Renegade RV Vienna QRS
Coachmen Concord 300DS
Leisure Travel Vans Serenity 24CB
Class C Motorhomes
For buyers looking for something smaller than a class A, but not as compact as class B or a B+, class C motorhomes are the way to go. These recreational vehicles are sometimes referred to as mini-RVs. Class Cs are constructed on top of a van or truck chassis, making it similar to a class B unit. However, class C motorhomes are larger with its own cab.
Class C typically has a sleeping area in the rear part of the vehicle, and another one over the cab. Like its class A brother, its cozy features include a kitchen and dining area, convertible sofas, a bathroom, and shower enclosure. Be ready to setup for overnight use if your unit has features like an exterior awning or slide-out parts.
Pigly's
Tip!
Class C motorhomes might convert the area above the cab into an entertainment system or storage area. If you want extra space for sleeping, get a unit with a free space above the cab.
Passenger count: Class C motorhomes can accommodate 4 to 8 people, and are ideal for families or a group of friends.
Fuel: Also powered with gas, class C motorhomes come in second in fuel efficiency. According to Camper Report, they have an average gas mileage of 14 to 18 mpg.
Price: Depending on the size, a new class C motorhome can cost around $50,000, up to around $80,000. For more luxurious models, you should save around $85,000 to $140,000, according to Cost Helper Cars. Below are several examples of popular class C motorhome models:
Entegra Qwest
Jayco Melbourne
Forest River Sunseeker
Coach House Platinum III
Winnebago View Class C Motorhome
Thor Motor Coach Siesta
Coachmen Freelander Class C RV
Dynamax Isata 3 Series Class C Motorhome
Travel Trailers
Conventional travel trailers are another good option for beginners. If you don't want a motorhome, but own a big truck or van, this option might work for you. Many lightweight models are built to be towed by 6-cyclinder family cars.
There are affordable options that cost around $10,000. Travel trailers come in different sizes, such as 12 feet or 35 feet long. It's also equipped with features like a dining area, kitchen, bathroom, sleeping quarters and entertainment systems for your comfort. Some models may also come with slide-out options just like motorhomes.
Pigly's
Tip!
Travel trailers can be towed by midsized vehicles such as SUVs, minivans, and pickup trucks. Just remember to match your RV's loaded weight with your vehicle's towing capacity for safety.
Once you reach a campground, you can conveniently detach from the trailer and drive your vehicle to visit nearby sites or do errands. However, since it's meant to be towed, the challenge is how to maneuver and park your vehicle. Climate control can also be an problem, because you can't turn on the trailer's air conditioning while you're driving.
Another issue with travel trailers is theft. According to Trip Savvy, travel trailers incur the most theft out of motorhomes or coaches. There are some incidents where burglars hook parked trailers to their vehicle and drive them away. That said, it's best to have someone watch over your trailer before leaving to do errands.
Passenger count: It can generally accommodate up to 10 people. But less than 10 people would make it a more comfortable living space.
Fuel: Your fuel consumption will depend on the type of vehicle you own and how much weight your trailer carries. And as for most cars, having a newer vehicle means you'll have better gas mileage. For example, if you tow a small Casita travel trailer with a Ford F150, you could run for 12 miles to a gallon. Other travel trailer owners report up to 15 or 16 miles per gallon with their trailers.
Price: The price range varies widely. Units may be as low as $8,000, while high-end units can cost around $95,000. Camper Report states new travel trailers can cost somewhere between $11,000 to $35,000. A 24-feet trailer fitted with good construction can be priced around $23,000. The price depends on the size, construction quality, and features. Below are examples of travel trailer models in the market:
Heartland Pioneer RD210
Keystone Premier 26RB
Jayco Jay Flight 33RBTS
Forest River Puma XLE 24LBC
Starcraft Mossy Oak Ultra Light 261BH
Crossroads Zinger 31BH
Taxa Outdoors Mantis Trek
Coleman Lantern 250TQ
Toterhomes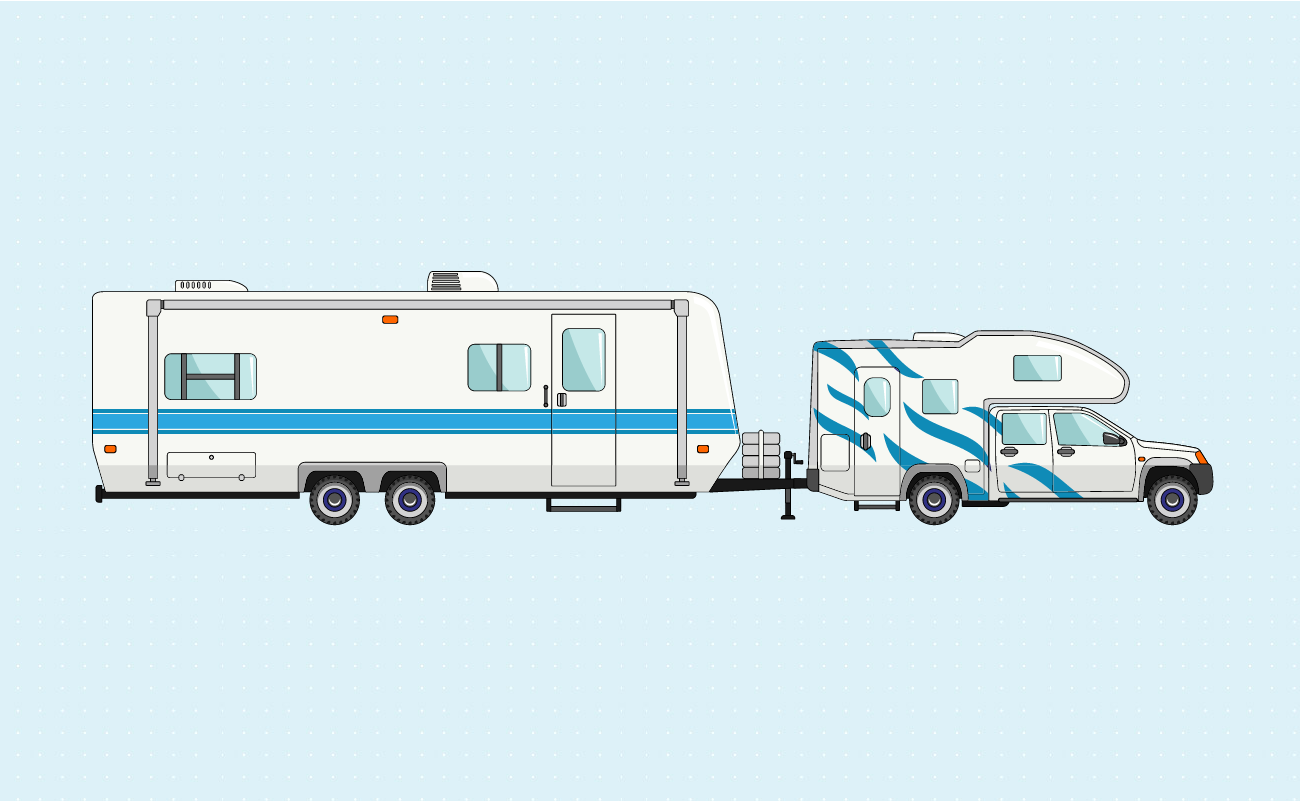 Toterhomes are one of the most expensive types of motorhomes in the world. These RVs are considered full homes on wheels which can cost over half a million dollars. They come with complete living amenities, ensuring a luxurious vacation for extended trips on the road.
Toterhomes are huge and built for hauling. Its motorized part is usually constructed on top of a modified semi-truck chassis. Once you see it from afar, it looks like a long truck or tractor trailer. It also resembles a class C motorhome but a more upgraded one. Toterhomes are called sleeper trucks because it houses many sleeping cabins.
Pigly's
Tip!
Toterhomes are not the most practical RV option. Aside from being expensive, its huge size means it's a lot harder to drive and park. You'll also need a special license to drive a heavy vehicle above 26,000 lbs. It's ideal for professional sports teams and groups that tour around the country.
Due to its size, toterhomes can attach 5th wheel trailers to its truck. Toterhomes are even used to haul cars, motorcycles, and small air crafts. Professional racing teams use toterhomes to haul cars back and forth stadium tracks.
Passenger count: Since it can fit professional teams, a toterhome can easily fit more than 10 people comfortably at a time. Larger ones can easily house up to 15 adults.
Fuel: Truck fuel consumption increases as the vehicle hauls more weight. Bear in mind that heavier trucks need more fuel to run and go over inclines. You'll surely spend more on gas just driving a toterhome around.
Price: Brand-new totterhomes easily cost around 6 figures. You can get a new toterhome for $320,000 up to $750,000. For more affordable options, buyers look for used toterhomes that are well below $100,000. The following are examples of toterhome models you can find in the market:
Renegade Sport Deck Double Slide
Peterbuilt Showhauler
Monaco Dynasty Yorkshire
Showhauler Freightliner
Volvo Toterhome
Monaco Signature Fortress
Kenworth Toterhome
Monaco Camelot 42KFQ
Financing RVs Compared to Cars
Once you have an idea what RV to buy, prepare your budget and get financing. Securing a loan for your RV is similar to an auto loan. Like financing for cars, you need good credit standing to get a loan approved for your RV. You must also save on down payment for your purchase.
Most lenders will not let you purchase an RV with an auto loan. Lenders classify RVs as luxury items, the same way they regard motorcycles and boats. So lenders will point you toward a higher interest loan that's more appropriate for an RV.
Pigly's
Tip!
The majority of dealers require at least 10% down payment for an RV. Others even ask for as much as 20%. Make sure to save enough funds before pushing for a deal.
There are special RV loans for consumers which cover long-term financing. You may also secure RV financing through an unsecured or secured loan with your bank, credit union, or online lender. See the table below to compare financing costs between recreational vehicles and cars.
Type
RVs
Cars
Loan Terms
2 years – 20 years
5 – 6 years
Loan Rates
Excellent credit score: 4.25%
Lowest credit score: 24%
Excellent credit score: 3.68%
Lowest credit score: 14.41%
Insurance Cost
Per year: $1,500
Per month: $125
Per year: $1,099
Per month: $92
Loan Terms
RV: Recreational vehicle loans are typically repaid with monthly installments over a duration of 2 to 20 years. Some new RVs can cost around $23,000, which can be paid within 6 years. High-end models that cost around $500,000 and above logically have a longer term of 20 years.
Car: On the other hand, auto loans are repaid with shorter terms. Since cars do not cost as much as luxury recreational vehicles, consumers can repay within a loan term of 5 to 6 years.
Loan Rates
RV: Just like auto loans, you need a good credit score to secure a favorable rate. As of May 2020, you can get 4.25 percent with an excellent FICO score between 800 to 860. For low credit score, you may still get approved for an RV loan if your FICO score is under 580. But brace yourself for higher rates, which is around 24 percent. So make sure to improve your credit score before applying for an RV loan.
Car: Compared to RV loans, consumers generally get lower rates when they secure financing for a car. As of May 2020, superprime borrowers can secure an average rate of of 3.68 percent. Meanwhile, consumers with credit scores below 580 can get an average rate of 11.89 percent on a new car. People with even lower credit scores get around 14.41 percent rate, according to Experian.
Insurance
RV: Before purchasing an RV, you must present a proof of insurance for your lender to approve your loan. Set a meeting with your insurance provider to ensure you have the right coverage that meets your lender's terms. This includes coverage for road accidents, theft, and other repair work that may apply. As of May 2019, the average full-time RV insurance costs around $1,500 per year, which is $125 per month. Don't forget to add the insurance cost to your monthly payments.
Car: Unlike buying RVs, you don't need to secure insurance before getting a car loan. Technically, you can secure a car loan and pay for insurance later. However, since most states require drivers to have insurance, you can't drive your car out of the dealership. So you might as well get the insurance right away. As of January 2020, the average cost of auto insurance is about $1,099 per year, based on the National Association of Insurance Commissioners. That's around $92 added to your monthly bills.
Common RV Maintenance Issues
Anyone who's used their RV for more than a few days has experienced issues at some point. Even if you have a brand-new unit, some problems are unavoidable the more you use your RV. Here are some common RV problems to expect and how to address them.
Slide-out Issues
Having slide-outs are a great way to expand your RVs space. It gives you extra room for sleeping or lounging around your motorhome. However, since it's made of moving parts, slide-outs are prone to corrosion and rust.
To prevent this, regularly lubricate the slide-out mechanisms. Applying a cheap and available product like WD-40 will keep it from getting stuck and incurring rust.
Minor Electrical Problems
If you're uncomfortable with tinkering electrical systems, get in touch with a professional. But for minor issues, you may be able to resolve them yourself.
You'll find that some switches in your circuit breaker panel may not work. The good thing is replacing the switch yourself is fairly easy to do. Moreover, some electrical outlets may also stop functioning. This is usually caused by wires that are clipped together in a receptacle by the RV manufacturer. The clipped orientation is actually prone to getting lose, so it eventually stops working. You can replace them with the same outlet boxes used at home. This makes a more reliable power source for your RV.
But again, if you're not confident about handling electrical issues, call an experienced professional to be safe.
HVAC Issues
Another common problem is the RV's heating and cooling system. If you turn on your air conditioning, but the air is not cold, you likely have dirty air vent filters. You can replace this easily yourself. Air vent filters are cheap, which are priced around $13.95 to $18.95. So keep some in stock while you're traveling.
Over time, you can also have issues with your thermostat. This happens your thermostat controls don't seem to be in sync with your HVAC unit. To resolve this, you'll need to replace your thermostat. While you're at it, you can upgrade from an analog to digital thermostat controls.
Window Maintenance
RV windows are vulnerable to water damage as well as cracks as the weather changes. So make sure to clean them regularly and check for cracks. You'll never know when road debris hits your glass panel and causes damage.
And while closing windows prevent water from leaking in, the seals around them wear off over time. For this reason, it's important to reseal your RV windows regularly. Check them every couple of months to see if they are starting to leak.
Glass sealants are cheap at just around $15. Replacing a small glass window costs roughly around $200. So prepare to spend more if you need to replace larger glass panels.
RV Roof Repairs
Fixing a roof or having it changed is one of the most expensive repairs people make on their RV. For instance, if you have a 36-feet long motorhome, it can cost you around $7,000 to $12,000 to have the roof replaced. Fixing RV roofs are labor intensive, so prepare to spend about $300 per linear feet.
The good news is, most RVs come with roof warranty that provide 8 to 15 years of coverage. But to protect it from wear and tear, always cover your RV with a water-proof, UV resistant cover.
Common RV roof materials are rubber, fiberglass, and metal. Rubber is lighter than fiberglass and metal, but requires regular cleaning with oil and soap. Products with petroleum distillate can also damage rubber roofs, but you can use sealant to repair leaks. Compared to a fiberglass roofs, rubber ones may need repairs and replacement sooner.
Metal, on the other hand, is not commonly used as roofing for RVs. This is because metal is a lot heavier than rubber and fiberglass. However, they don't require as much maintenance as rubber or fiberglass. Cracks develop over time on metal roofs, so keep a sealant handy to patch them up.  
Pigly's
Tip!
Fiberglass is considered the best type of RV roofing. It's the most durable and easy to clean material over rubber or metal. Fiberglass doesn't incur wear and tear as fast as rubber roofs. You can also buy cleaning products that slow down oxidation of fiberglass roofing.
Make the Most Out of Your RV Experience
Let's say you've succesfully procured your own RV. The next step is to get yourself acquainted with the best times of the year to travel, known camping sites, as well as how much you should typically spend on campground rates.
Depending on the area and the size of your camping spot, RV campsites typically cost about $25 to $80 per night. Expect to shell out around $45 for a spot water and electricity. But of course, some camping grounds charge more, as much as $100 per night. Camper Report compiled a list of campsite rates around the country. You can use it to look for affordable camping sites to help you save on your trip.
When should you go on vacation? The best time to travel is during fair weather conditions. This is around spring or summertime. But other people also like to go during the holidays in winter.
Pigly's
Tip!
Avoid traveling during "peak seasons"– they usually mean encountering more tourists who compete for resources, Leading to higher camping rates for travelers.
The US has many different regions and climates, which makes it hard to recommend one ideal travel period. But here are some suggestions according to region that can help you decide when to go on a trip:
California and Western USA – RVs can camp around places like Monument Valley, Bryce Canyon, and Zion National Park. Expect snowy landscape between December to March with open campgrounds even during the winter. California is cool all year round, but morning fog is heavy during the months of June to August which may affect viewing landscapes from afar. Peak tourist season for California and Western states is usually around June to September.
Florida – Florida is known for its sunny weather in the south, making it known as the "sunshine state." Peak tourist season in Florida usually starts in December and goes throughout April of the following year. However, take note that hurricane season comes around June to September. Some popular campsites you can visit include Topsail Hill Preserve Park in Santa Rosa Beach, Fort Pickens Campground in Pensacola, and the Bahia Honda State Park in Florda Keys.
North-East USA – RV vacations are only permitted between the months of May and October in north-eastern states, with peak tourist season usually around July and August. Beyond this period, campgrounds are closed for the entire winter. Well-known camping grounds in the northeast include Acadia National Park in Maine, Eight Lake Campground in Inlet, New York, and White Mountain National Forest in New Hampshire.
Before you go RVing, here are a few more tips to help you save while traveling on your RV:
Travel during the off season. – Going when there are less tourists usually mean lower prices for food and camping sites. It's also not as crowded so you get to enjoy more privacy. Of course, time this when the weather is relatively calm. You don't want to get caught in a storm that can get you stranded on your vacation.
Cook in your kitchen. – It's always cheaper to prepare your own meals than to eat out everyday. Use your kitchen and make time to prepare your meals. Buy grocery supplies and budget your food for the trip. The convenience of having your own kitchen and sink is one of the reasons why people enjoy traveling in an RV. And when you do eat out, make sure it's somewhere extra special.
Shop around for more affordable fuel. – A long drive means you'll likely pass by several gas stations on the road. Keep an eye on fuel prices and look for ones with lower rates. Then decide on the nearest gas station with the lowest price you can find. A large RV can cost you a lot on fuel, so you might as well get as much gas as you can on the road.
Join a camping discount club. – Depending on the camping club, you may get benefits like discounts on affiliated parks. For example, if you get a 50% discount by staying at several camping sites in a year, that factors in a lot of savings.
Try boondocking. – Having an RV should grant you the freedom to camp on public lands. Boondocking, also known as dry camping, is one way you can save on camping fees. The adventure lies is finding a good public spot where you can park your RV for a couple of days. This experience will also teach you how to conserve water and electricity. On the other hand, there are camping spots that allow RV owners to park for 14 days with a minimum fee.   
The Takeaway
Owning an RV is an expensive investment that requires owners to devote a lot of time to maintain their unit. It also means using it frequently to justify the high cost.
That said, it's important to choose the right kind of RV so you can maximize it's use. And as long as you keep it in good condition and replace parts as needed, you can keep using your RV for decades to come. Now make the most of your RV and enjoy your adventures.
Are you thinking of getting your own motorcycle to take with you on the road? Read our motorcycle buyer's guide on our bike payment calculator.
About The
Author
Jose Abuyuan is a web content writer, fictionist, and digital artist hailing from Las Piñas City. He is a graduate of Communication and Media Studies at San Beda College Alabang, who took his internship in the weekly news magazine the Philippines Graphic. He has authored works professionally for over a decade.