Boat Payment
Calculator
Use this calculator to quickly estimate the monthly payments on a new or used boat loan. Enter the amount borrowed, any application fees, the loan term & interest rate charged on the loan. This calculator defaults to monthly payments though you can change to using an alternate payment frequency. There are also options to add sales tax, trad ins and rebates to your calculation. The affordability calculator in the second tab allows you to estimate an affordable vehicle price based on your current savings and monthly budget.
The Consumer's Guide to Purchasing a Boat
Authored by Jose Abuyuan on June 1, 2020
Despite the hectic demands of modern living, people always find time for recreation and travel. Apart from taking an RV to go the beach or camp in national parks, quite a number of people actually enjoy boating activities. When summer comes, people with access to boats can enjoy fishing, water sports, and a relaxing cruise toward the sunset.
Where do you start if you want to purchase your own boat? Before you make this major purchase, it's important to know what you're getting into.
In this guide, we'll walk you through different types of boats according to their functions. We'll cover general price ranges and maintenance concerns. You'll get to know how to secure a boat loan, rates and terms, as well as information on insurance. Finally, we'll talk about storage costs for winter and several basic boating tips for beginners.
Determine What Type of Boat to Buy
Getting into the boating lifestyle means learning about different boats and what functions they do best. This will help you know your options and which boat will work for your needs. Before you decide on which boat to buy, ask yourself these 5 questions:
What's the boat's purpose? – You obviously have a specific activity in mind for your boat. Some people like to go sailing or overnight cruising. Others buy boats to go fishing in lakes or open shores. For boaters into sports, they enjoy water skiing and competitive sailing in the coast. Whatever your purpose, there's a boat out there for your needs.
Where will you take the boat? – Knowing the location tells you what boat size you'll need. Small boats are appropriate for areas with shallow depth. They are easier to maneuver in smaller waterways. Bigger boats are better equipped for large waterways with a deeper hull.
How many people should get on board? – This is another factor which determines boat size. There are beachcats and sailboats which ferry one or two people. If you're taking your family with several guests, you'll probably need a larger vessel. But if it's for immediate family or trips with less than 6 people, a smaller boat may suffice.
Do you need to tow your boat? – Many people usually put their boat on a trailer to store and tow as they please. If you are planning to tow your boat on your trips, remember that the size and weight of the boat will impact the towing capacity of your car. For your safety, make sure you have a vehicle that is well-equipped for the job.
Where will you store your boat? – Not everyone has their own personal dock. Depending on the size of your boat, you may place it on a trailer and park it inside a shed or garage in your property. This helps you save a lot on storage costs. For others, they opt to store their boat in a dry outdoor facility or wet boat storage which entails monthly fees.
Pigly's
Tip!
Expect to spend around of $200 to $300 per month on boat storage. Some options are less than $200. Rates depend on the facility, boat size and type. Dry outdoor storage is the most popular and inexpensive option, while indoor boat storage is expensive but provides the most protection for boats.
As you can see, owning a boat has many considerations. For the most part, you need to justify the expensive cost by making the most out of your investment. If you don't use a boat regularly, boat rental might be a better option for you.
Boat rental rates depend on the type of vessel. For instance, the average daily rate for a bowrider ranges between $200 to $900, while a fishing boat costs around $150 to $1,400 per day. Below is a table of average rental rates for different boats compiled by Go Downsize.
| Boat Type | Hourly | Daily |
| --- | --- | --- |
| Airboats | $10-$100 | $60-$200 |
| Bow-Rider Boats | $40-$300 | $200-$900 |
| Cabin Cruisers | $200-$400 | $1,000-$1,500 |
| Canal Boats | Typically not possible | $1,800 (3 days) – $3,500 (7 days) |
| Catamarans | Typically not possible | $500 (1 day) – $16,000 (7 days) |
| Cuddy Cabin | $150-$250 | $375-$800 |
| Deck Boats | $140-$600 | $660-$2,500 |
| Fishing Boats | $75-$250 | $150-$1,400 |
| House Boats | $99-$300 | $600-$1,750 |
| Jon Boats | $15-$45 | $75-$150 |
| Pontoon Boats | $120-$300 | $500-$1,200 |
| Sailboats | Typically not possible | $115-$2,000 |
| Speedboats | $140-$250 | $700-$1,200 |
| Trawlers | $170-$430 | $700-$3,300 |
| Yachts | Typically not possible | $1,000-5,000 (1 day) – $35,000-$90,000 (7 days) |
Based on this table, if you go on 8 weekend fishing trips a year, you'll spend anywhere between $2,400 to $22,400 a year. If you make it a regular activity, it will really get costly annually. At this point, you might as well consider buying your own boat. There are multi-purpose boats out there that cost around $23,000 and below. However, if you don't go boating that often, say 3 or 4 times a year, then it's a good idea to stick to boat rental.
Of course, owning a boat means dealing with operational and maintenance costs. However, if your priority is comfort and convenience of having your own personal vessel, it's certainly a worthwhile investment.
Pigly's
Tip!
The annual maintenance cost for a boat accounts for about 10% of its purchase price. Maintenance includes everything from cleaning the deck, repainting the hull annually, and for sailboats, replacing the sails every couple of years. If your boat costs $35,000, you spend roughly around $3,500 on maintenance per year.
For those of you who are keen on boating, here are several common boat types to consider before purchasing one.
Sailboats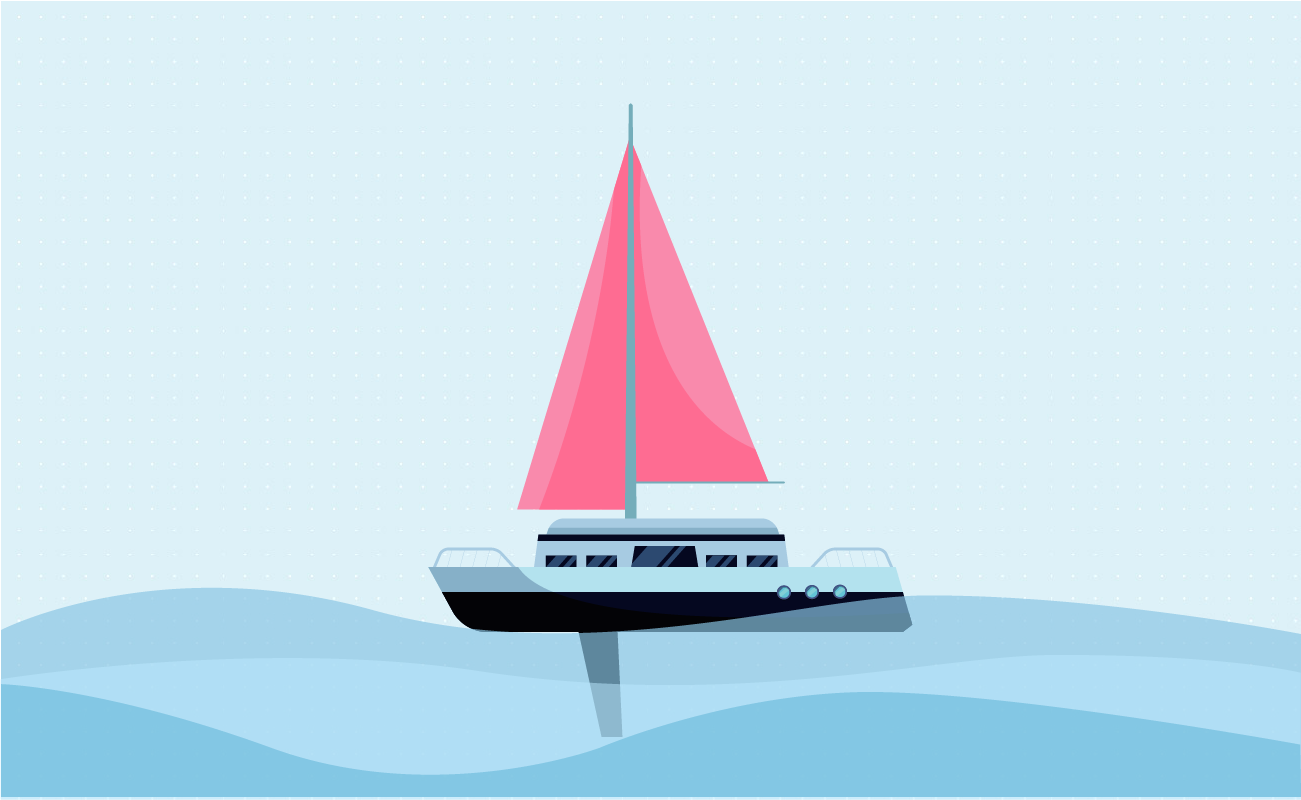 Sailboats come in many types and sizes. They are characterized by sails that run along masts and keels attached to the hull. There are small sailing dinghies that are usually used in lakes and sometimes sailed alone. Others are larger and have engines for cruising along open shores. Sailboats less than 20 feet long usually have no engine, while larger ones are partially or completely propelled by the wind in the sails.
Since sailboats without engines are completely wind-powered, you don't have to worry about gas and oil changes. Most engine-powered boats are fueled on gas. Boats over 45 feet usually run better and more efficiently than smaller boats. And like cars, brand-new boats generally have better gas mileage than old ones because of technology upgrades like fuel injections.
Price: According to Improve Sailing, a new sailboat that's 26 feet long has an average cost of around $80,000, while a used one could sell for around $20,000. A cruiser at 36 feet is priced at $150,000, while a used one is around $40,000. Smaller sailboats such as new beach catamarans have an average price of $7,500.
Many factors affect sailboat price, such as design quality, the latest technology and features. While used boats are generally more affordable, they come with more maintenance issues. The average annual maintenance cost for sailboats range between $3,000 to $7,000. Sailboats need regular interior and exterior cleaning, woodwork varnishing, hull waxing and occasional sail repairs.
Pigly's
Tip!
An example in Mint Life notes the total annual cost of buying a 22-ft. sailboat including maintenance, winter storage, and insurance comes down to $4,300 a year, which is $385 per month.
Here's a list of several types of sailboats to choose from:
Sailing Dinghies – These are small sailboats that can accommodate up to 2 people and are about 15 feet in length. Not for the dry sailor, these boats are sometimes used for competitive race sailing.
Motorsailer – These are sailboats fitted with inboard engines that are designed for extended cruising with a sail. Motorsailers are much like a pleasure yacht, but its principal propeller is a sail while the engine powers and maneuvers it with ease. At 35 feet or more, they often come with luxurious accommodations. Depending on the size, some motorsailers can hold up to 24 people.
Cruising Sailboat – This boat it designed with cabins for extended cruising. It has suitable living amenities for a family, but is small enough not to require a crew. Cruising sailboats generally range from 16 feet to 50 feet long. Those longer than 26 feet commonly have a standing headroom below its deck. Popular models have fleet associations that do group cruises. A 34-foot cruising sailboat should safely ferry 15 passengers. If you're planning on having more people, such as for tours, a larger boat would be necessary.
Beach Catamaran – Also called 'beachcats,' these boats were originally inspired by Polynesian double-canoe sailboats. They are distinguished by twin-hulled catamarans instead of the usual single hull. They range from 13 feet to 25 feet in length, can carry up to two passengers, and sail without a cabin. Beachcats are known to sail at fast speeds, with some reporting up to over 20 knots.
Cruising Catamaran – This boat uses the two-boat design but is upgraded with higher capacity for extended cruising. They also come with large cabins and living amenities good for families and big groups. These boats also have stable platforms and shallow drafts. Cruising catamarans are commonly 25 feet to 50 feet in length. Smaller cruising catamarans can fit up to 20 people, while 50-ft. boat can accommodate close to 40.
Here is a list of sailboat models you can find in the market:
Hylas 46
Topper Topaz Argo
Tartan 3700
Lagoon 440
Island Packet 420
Amel Super Maramu
Marblehead 22 Daysailer
Jeanneau Sun Odyssey 490
Fishing Boats
Different types of fishing boats are made for specific fishing activities. If you're fishing in small lakes, rivers, and occasional bays, a small or medium-sized boat will do. But if you're fishing in wavy open oceans or wide lakes, you'll need a larger boat.
Fishing boats come in two main deck layouts that determine how much floor space and storage you'll have. These deck layouts include:
Center console – This layout offers more deck space for reeling in your fish and casting nets. It's the popular choice for saltwater angler fishing and is usually between 18 feet to 40 feet long. The design also allows you to setup multiple poles around the boat. Center consoles have steering columns placed in the center of the boat, allowing passengers to openly walk on the deck.
Dual console – This design generally provides more storage and seating areas on the deck, with a  length range of 18 feet to 40 feet. It's a good choice for people who enjoy casual fishing while leisurely cruising in lakes and open seas. These boats also provide weather protection for passengers. It has a covered cockpit that usually extends throughout the boat, allowing people to get shelter on rainy days.
Price: The average price of a new fishing boat ranges between $25,000 to $100,000, according to Go Downsize. New center console boats have an average price of $97,000, while dual console boats are priced around $115,000. Fishtalk Magazine states there are affordable dual and center console boats priced below $20,000.
How about fuel cost for the boat? On average, a fast motor boat uses around 20 to 30 gallons of fuel per hour on a cruise. For example, let's say a gas per gallon is around $2.50. If your boat uses 25 gallons per hour on a 5 hour trip, it will cost over $300. A slower boat will likewise incur lower fuel cost.
Pigly's
Tip!
If your boat is stored in a marina, you'll need to have the paint scraped and painted every couple of years. Repainting the bottom of a boat will take over $300 per gallon. Remember to include this in your budget. Without repainting, weeds and barnacles grow on the underside of the boat.
To help narrow down your search, here's a list of common fishing boats:
All-Purpose Fishing Boats – These versatile boats can be used in rivers, lakes, and inshore saltwater locations. It's 15 feet to 22 feet in length with modestly powered outboard motors. Practical for beginner's, it functions as a fishing vessel and a small family boat in one.  
Aluminum Fishing Boats – These boats are popular among enthusiasts who enjoy fishing around small waterways and shallow, rock strewn locations. They're lightweight and can easily be transported on the roof rack of a vehicle. These boats are around 10 feet to 24 feet long. Depending on the type, some aluminum fishing boats come with a powerful outboard motor.  
Pontoon Boats – Apart from fishing, these boats are also used for skiing, tubing, and wakeboarding. They come with large outboard engines that zoom across a lake. For fishing, they are known to be stable and comfortable options for passengers. It's 16 feet to 30 feet in length and can accommodate up to a maximum of 15 people.
Bass Boats – As the name suggests, these boats are specifically designed for bass fishing in rivers and lakes. It's often used for competitive fishing activities with maximized casting decks. Base boats are 16 feet to 25 feet in length and can seat up to 5 people.
Below are examples of popular fishing boat models in the market:
Bluewater 355
Century 2901 CC
Everglades
HydraSports 4200 Siesta
Aquasport 2500 CC
Boston Whaler 240 Dauntless
Contender 25 Bay
EdgeWater 245cc
Motor Yachts
Motor yachts (sometimes called power cruisers or cruising yachts) are large recreational vessels which come with one or two propellers. These luxury boats are usually 26 to 100 feet in length and can accommodate up to 20 passengers.
While there are no set definitions for a yacht, these vessels are usually 40 to 90 feet long with a higher price point due to its luxurious setup and extended cruising capability. Yachts which are 60 feet are commonly run by the owner, while yachts between 60 to 90 feet typically require a crew and a captain.
When it comes to amenities and space, motor yachts go all out with several cabins, a full bathroom, and salon for social gatherings. Larger models have a kitchen, high-end appliance, as well as an upper deck or a "flybridge." Decks may also have dining tables and settees where guests can lounge and enjoy the relaxing wind. It's great for entertaining a crowd or a small group of tourists for a luxurious coastal cruise.
Price: Motor yachts are one of the most expensive boats in the market. According to Boats.com, a brand new motor yacht has an average price of $1,290,000. Full-sized yachts, on the other hand, have an average price of $8.4 million.
Pigly's
Tip!
The cost of owning a 60-ft. yacht priced at $1 million dollars is about $100,000 per year, according to Peter Schmidt, President of United Yacht Sales. This includes hiring a crew to regularly clean and repair the yacht. It's a luxury which entails having a lot of disposable income to maintain your rig.
Here are several examples of popular motor yacht models you will find:
Prestige Yachts X70
Princess Yachts S62
Absolute Yachts 62 Flybridge
HCB Yachts 42 Siesta
Silverton 39 Motor Yacht
Meridian 411
Carver 444 Cockpit
Bayliner 4788
Ski Boats and Wake Boats
Ski boats and wake boats are specially made watersports and day cruising. These type of boats are trailerable and are usually between 16 to 28 feet in length. They also have a maximum capacity of up to 8 passengers.
Water skiers look for the flattest wakes in the lake for a smoother ride. This is the opposite for wakeboarders who seek higher wakes for more exciting moves. And for water skiing, less people on the boat means better performance. As for wakeboarding, the ride is more enjoyable with more people on board.
Many ski and wake boats are designed with powerful inboard jet propulsion engines for great speed. For water ski racing, ski boats can run up to 190 km/hr. Expect fuel costs to be higher compared to conventional sailboats and fishing boats.
Price: Ski and wake boats have a higher price point than some sailboats or fishing boats. New ski boats range between $35,000 to $200,000. Wake boarding and wake surfing boats commonly cost around $150,000, with other luxury models above $200,000. However, there are more affordable wake boats priced at $52,000.
Pigly's
Tip!
In terms of maintenance, you should perform oil change every 50 to 100 hours or as recommended by the manufacturer. For winterizing, it costs between $1,000 to $2,500 a year. Winterizing entails draining accumulated water in the boat's engine, and replacing it with antifreeze. This keeps it from incurring damage caused by the cold.
Below are examples of well-known ski and wake boat models to choose from:
Moomba Outback
MasterCraft X30
Supreme S211
Centurion Enzo SV244
Natique Super Air Nautique 230 E
Malibu Wakesetter 247 LSV
Correct Craft Air Nautique 210
Axis Wake Research A24
Bowriders
Another fast and versatile boat is a bowrider. It's a popular vessel for entertaining family and friends, holding up to 9 passengers at a time. Designed with a jet propulsion engine, it's equipped for handling towable watersports like wakeboarding and can be used as a fishing boat. Many bowriders are also marketted as sports fishing vessels. Generally 16 to 28 feet in length, bowriders are trailerable boats you can tow around on your trip.
Bowriders come with different designs, including beginner's boats under 20 feet long. Larger, high-end models come with a bow, mid-cabin, and a berth.
As for fuel consumption, it will depend on your usual cruising speed and the size of the boat. For instance, a 240 Bowrider uses up around 3 gallons of fuel per hour while cruising at a steady speed of 7 mph. At twice the speed, it reaches 15 mph and burns around 7 gallons per hour.
When it comes to maintenance, just like ski and wake boats, bowriders require routine oil change every 50 to 100 hours or as recommended by the manufacturer. For winterizing, expect to spend around $1,000 to $2,000 on maintenance cost.
Price: Entry-level bowriders start at around $17,000, while luxurious models can cost up to $150,000. Boats.com states that the average price for a bowrider falls around $58,000.
Pigly's
Tip!
Planning a boat trip on rough waters? Large bowriders with at least 20 degrees of a V-shaped hull (referred to as deadrise) can glide through rough currents. Ask for this particular type of design from your dealer.
Below are examples of popular bowriders in the market:
Rinker Q7 OB
Cobalt CS23 SURF
Crowline E 295 XS
Stingray 208LS Sport Deck
Bayliner Vr6 Bowrider
Monterey 385 SE
Sea Ray SLX 280
Chaparral 191 Suncoast
High Performance Power Boats
If you're serious about watersports racing, this is exactly what you need. A boat is considered a high performance vessel when it runs at 60 mph or more. These boats are primarily powered by outboard engines and are usually 16 to 24 feet long. Other luxurious models are around 34 to 54 feet in length.
High performance power boats can accommodate 8 passengers and are designed with go-fast center consoles for more seating capacity and wider space in the cockpit. Luxury models come with a 50-ft. V-bottom designed with a cabin that's perfect for beach vacations. On the other hand, a 34-ft. model can have 6 seats and a cozy space underneath its deck.
High performance powerboats are not for the faint of heart or bank account. In speed boating standards, more powerful engines mean higher maintenance costs. Some owners purchase factory warranty as long as 8 years to even out their maintenance expenses. Your lightning speed boat will likewise have higher fuel expenses compared to conventional motorboats. 
Price: These boats have a higher price point than other speed boats. New models start at 6 figures around $300,000, with high-end models reaching over $1 million (at this rate, you might as well purchase a motor yacht).
Pigly's
Tip!
The top operational cost for a high performance power boat is fuel. High-octane gas, which is recommended for performance and reliability, is more expensive than regular fuel. Be prepared to shoulder this expense.
The following are popular high performance power boats in the market:
Donzi 38 ZR Competition
Campion Chase 800I
Formula 292 Fastech
Baja 26 Outlaw
Sunsation 29 CCX
Nor-Tech 320 MC
Crowline E29XS
Chris-Craft Corsair 30
Obtaining a Boat Loan
Once you've decided on the type of boat, it's time to prepare your finances. As you've noticed, most brand-new boats can cost a fortune. Even used ones in good condition can put a dent on your budget.
Securing a boat loan is quite similar to getting a car loan which is paid in fixed monthly payments. And just like any loan, you need to have a good credit score to get a boat loan approved.
Pigly's
Tip!
Most lenders look for a credit score of 680 and above to approve a boat loan. You may still get a loan with a lower credit score, but this entails a larger down payment or a higher interest rate. Make sure to improve your credit score to obtain favorable rates.
Different lenders such as banks, credit unions, and online lenders offer boat loans. But unlike car loans, you can get a boat loan from special marine financial companies such as the National Marine Lenders Association.
The interest rates and loan terms will depend on your credit score and income, your lender, the size of the loan, and whether you obtained a secured or unsecured loan. Here's unsecured and secured loans how affect your payment terms:
Secured loan – With the boat used as collateral, you will have longer repayment terms and higher loan limits. But once you default on your loan, the lender will take your boat.
Unsecured loan – Without the boat as collateral, you'll deal with shorter terms and higher interest rates. Defaulting on the loan will likewise tarnish your credit score, while the lender can file a law suite.
Interest Rates and Terms
While there are affordable boats in the market, boats are mainly considered recreational purchases such as RVs and motorcycles. Thus, rates for a boat loan are usually higher compared to cars (that have around 3.68% APR). Boat loan interest rates may start around 4.5% and up.
As for loan terms, payment periods range from 2 years, 15 years, and even 20 years. A more expensive boat will usually take a longer repayment period unless you're willing to pay down your loan within a shorter duration.
If you're a member of the following credit unions, it's worthwhile to take note of their loan terms and rates:
Navy Federal Credit Union – Offers members with secured loans for boats and personal watercraft up to 3 years. Loans are up to $500,000 with the lowest rates starting at 6.05% APR for new boats.
First Tech Federal Credit Union – Provides secured boat loans for new or used boats with a limit of $500,000. The lowest rate starts at around 4.5% APR and gradually increases for older boat models.
To give you a better idea on boat loan rates, Boat U.S. provides information on estimated rates and terms based on loan amounts. Presuming you have a high credit score, see the projected rates below. Just take note that rates and terms vary per lender.
| Boat Loan Amount | Rate | Term |
| --- | --- | --- |
| $15,000 – $24,999 | 6.39% | Up to 12 years |
| $25,000 – $49,999 | 5.69% | Up to 15 years |
| $50,000 – $74,999 | 4.49% | Up to 20 years |
| $75,000 – $499,999 | 4.74% | Up to 20 years |
| $500,000 + | 4.99% | Up to 20 years |
Based on information from Boat U.S., if you have a $65,000 boat loan with 4.49% APR and make a 15% down payment, the loan term will be 180 months (15 years). If your boat loan is $200,000 with 4.74% APR and make a 15% down payment, the loan term will be 240 months (20 years).
Pigly's
Tip!
Set on buying the boat? Have it checked first! Get help from an independent marine surveyor before purchasing a new or used boat. Just like home inspection, a marine surveyor will conduct thorough assessment and report the vessel's actual condition.
Securing Insurance
There are different types of insurance for all sorts of boats. You can have a small dinghy insured, as well as a jet ski and large yacht. There are even marine insurance policies specially made for members of boat clubs.
But in general, whether you have a yacht, fishing boat, or high performance motorboat, insurance can cost anywhere between $300 to $500 per year.
There are 2 types of boat insurance policies, mainly 'agreed value insurance' and 'actual value insurance.' The difference lies in how each insurance type deals with a boat's depreciation.
1. Agreed value insurance – Provides coverage based on the value of the boat when the policy was made. It's more expensive upfront, but it does not factor in depreciation for the total loss of a boat (thought some partial losses can be depreciated).
2. Actual cash value insurance – Costs less but it includes your boat's depreciation rate. It will only cover the actual cash value of your boat at the time you declare total or partial loss. As boats age, insurance providers usually recommend actual cash value policies.
Your insurance coverage will rely on the kind of policy you get. However, you can include more terms. Below is a list of coverage add-ons you can secure for your boat:
Towing – Crucial for when your boat breaks down and you need to get your boat towed safely to shore. Towing can easily cost $400 per hour.
Consequential Damage – Coverage for usual wear and tear like corrosion, boat rot, and mold.
Salvage – Pays for locating and removing your boat due to wreckage, whether it's a minor or substantial issue.
Specialized coverage – Insures specific equipment in your boat such as expensive navigation controls.
Cruising extension – Temporary additional coverage for when you intend to cruise outside the US (usually in the Bahamas or Mexico).
Getting a Boat Registration
Apart from your boat loan and insurance, don't forget to register your boat. The cost of registration varies per state and also relies on the length and type of boat. This can cost you anywhere between $25 to $250.
You can register at the Department of Motor Vehicles (DMV) office. For complete licensing requirements for all states, you can go to the DMV's Boating License page.
Boats that should get registration include private vessels like yachts and even jet skis, sailboats, and powerboats. On the other hand, boats that do not require registration include the following:
Surfboards
Sailboards
Boats that only use paddles or oars
Winter Storage for Boats
Another important thing to consider is proper boat storage, especially during the winter. Keep in mind that storage costs depend on the size of your boat.
Some owners park their vessel in a marina all year round. This is a common practice in areas with temperate weather and mild winters. It applies to larger boats that can't be towed in dry storage lots. To insure boats don't sustain damage during the cold, owners winterize their boat and add ice agitators to prevent the water from freezing around their rig.
Renting a storage spot at a marina is called 'renting a slip.' If you get yourself a permanent spot, it can actually yield considerable savings. Improve Sailing states that regular docking slips for boats that are 24 to 74 feet cost $12 to $50/ft. per year. Prime areas in the US have a rate between $120/ft. per year to $240/ft. per year.
On the other hand, owners take their boat to outdoor dry storage facilities, which is considered the most budget-friendly option. It is also more common than indoor facilities. The average cost for outdoor storage ranges between $20 to $50/ft.
Another option during winter is indoor boat storage. This is the most expensive yet provides the most protection for your vessel during harsh winters. Indoor boat storage costs between $50 to $200/ft of boat. The challenge for owners is finding a nearby storage facility in their area.
For smaller boats, the best way to save on storage is to actually keep your boat inside a garage in your property. In this case, you'll need your own trailer to park and tow your boat.  
Vital Boating Advice for Beginners
Let's suppose you're now a new boat owner. Now it's time to prepare yourself for boating adventures in lakes, rivers, or open seas. Though boating in many ways is an enjoyable and relaxing recreational hobby, it also requires proper training and navigational skills. That said, here are some basic tips for entry-level boaters:
Get training. – Join educational boating safety courses in your area. You can sign up for boating safety courses offered by various boat clubs, the National Safe Boating Council, and the Boat U.S. Foundation.
Learn about your equipment. – Navigating on water is crucial if you're ever going to operate your boat on your own. Familiarize yourself with navigational tools such as automatic tracking aids, magnetic compasses and how to read them, as well as navigational lights and signal systems. You'll be thankful for it.
Check the weather. – Assess the weather twice before heading out with your boat. Even with clear skies, rain can creep up every now and then, making it harder for you to go back. The last thing you want is to get stranded out at sea when you're a new boater.
Wear layers of clothing. – Temperatures can change drastically when you're cruising on the water. Even when it's warm on land, winds can get pretty chilly once you're sailing in a boat. Make sure to dress in layers to keep yourself warm.
Keep a first-aid kit on board. – No matter how careful you are, it's better to prepare for emergencies. After all, you can't just rush to a hospital when you're on a boat. Stack up on medicine such as pain relievers, allergy medications, bandages, and hydrogen peroxide for disinfecting wounds. You'll be glad you have them on a rainy day.
The Bottom Line
Owning a boat is a major purchase that demands a lot of time and commitment. It's also a priceless and rewarding experience you can have in between busy days.
To keep your boat in good condition, make sure to keep tabs on your maintenance schedule. Apart from taking care of your rig, get training for basic safety and seafaring skills to be a more confident boater. At the end of it all, what matters is you're happy with your investment.
Are you planning on buying a recreational vehicle for cross country travel? Read our RV consumer's guide on our RV payment calculator.
About The
Author
Jose Abuyuan is a web content writer, fictionist, and digital artist hailing from Las Piñas City. He is a graduate of Communication and Media Studies at San Beda College Alabang, who took his internship in the weekly news magazine the Philippines Graphic. He has authored works professionally for over a decade.